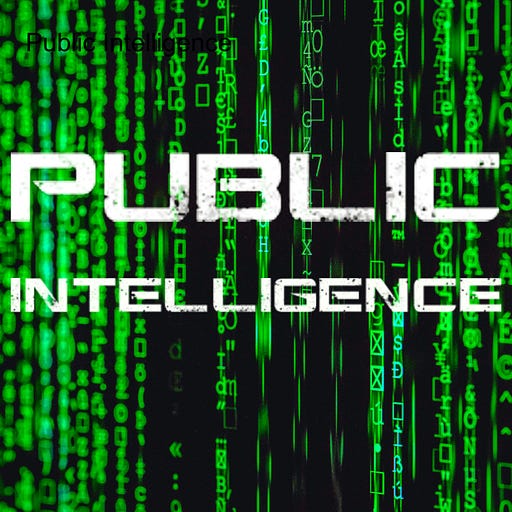 Aug 27, 2021 • 1HR 9M
Brad Johnson - CIA Chief of Station (RET.) - Intel Briefing
Asking great questions of great people. Attempting to investigate, research and report on geopolitical events, history, psychology, sociology and science. The goal of public intelligence is the pursuit of objective truth, particularly one that is being covered up or hidden by some who wish to keep certain knowledge in the dark.
Politically conservative, intelligent news; bringing you facts and analysis from a 25-year CIA officer. What mainstream media plays down or ignores, we cover in depth. Brad Johnson, now retired, brings his extensive first-hand knowledge from his domestic and international intelligence responsibilities. Elected officials have lost sight of the Rule of Law and public safety. and our international enemies wish to seek our destruction and domination.
Developments in those arenas are covered regularly here and hosted by various media outlets. Please subscribe and share.
Brad Johnson is President of Americans for Intelligence Reform and you can visit www.intelreform.org to learn more and for all video interviews and printed articles.
Links
https://intelreform.org/ https://www.facebook.com/AmericansforIntelligenceReform https://twitter.com/AmericansReform https://www.bitchute.com/channel/xbu9Bpiqs4dW/ https://rumble.com/c/BradjohnsonCIA https://www.addyadds.one/ YOUTUBE: HTTPS://WWW.YOUTUBE.COM/CHANNEL/UCI0O7W5TEZEMMK0B3XQT1BA ADDY ADDS INTERVIEW CLIPS YT: HTTPS://WWW.YOUTUBE.COM/CHANNEL/UCRONWW5MV9QYMFFXUO2UVIW FACEBOOK: HTTPS://WWW.FACEBOOK.COM/ONEADDYADDS TWITTER: HTTPS://TWITTER.COM/ONEADDYADDS BITCHUTE: HTTPS://WWW.BITCHUTE.COM/CHANNEL/BGELNAOKAOII/ PAYPAL: HTTPS://PAYPAL.ME/ONEADDYADDS PATREON: HTTPS://WWW.PATREON.COM/ADDYADDS VENMO: HTTPS://VENMO.COM/ADDYADDS UGE TUBE: HTTPS://UGETUBE.COM/@ADDYADDS BRANDNEWTUBE: HTTPS://BRANDNEWTUBE.COM/@ADDYADDS RUMBLE: HTTPS://RUMBLE.COM/C/ADDYADDS